Senior Creator Profiles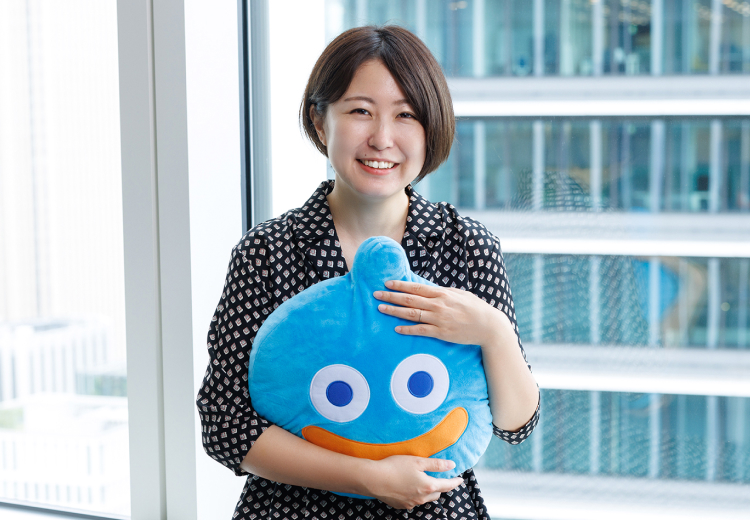 Studio Hi-WORKS
Designer
MAIKO MORI
What motivated you to join the company and what does your job involve?
I joined as a new graduate because I love games, I wanted to work with pictures, and I thought I could gain a lot of experience as a designer. I work on DRAGON QUEST KESHI KESHI! as an art director and UI designer, so I plan and design the UI all the way to implementation.
What is the atmosphere of the team like?
Since most of our work is done remotely, we try to create an atmosphere in which it is easy to talk to each other in a frank manner, without being too formal. This is because we want people to feel free to express all sorts of opinions. I have also become much more accustomed to production via remote work, and I can now detect feelings of anxiety in writing too. That means that whenever I feel that a staff member is anxious, I call and talk to them directly so that I can resolve their concerns straight away.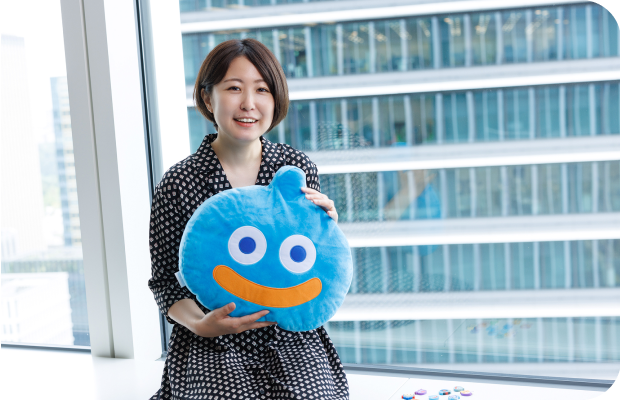 Success stories and happy experiences at work
For me it was the experience of helping make two titles from scratch. This has been a terrific success story. After the release, it is great fun to look at the feedback on social media and talk about it with the team.
I was also happy to be able to be involved in a title that I have been playing since I was a child. We are also putting songs that everyone knows into a game that we are creating. That was incredibly exciting.
Future goals
I'm grateful that I get to do a lot of work on new projects, but I would like to gain more experience in long-term game management in the future. I am very busy at the moment, but if new people arrive, I would like to share my experience and help them with how to implement things.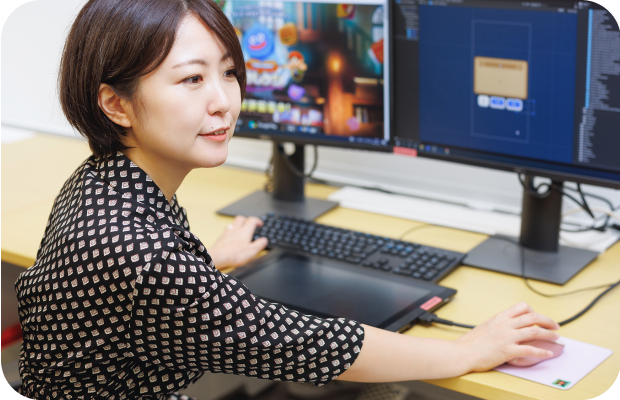 Personal life and spending time off
On my days off, I am not tied down by work, so I am free to draw illustrations, watch movies, and play games. I often watch movies at home while playing mobile games.
Message to applicants
This company has an atmosphere where you can be involved in production with a focus on what to do to make an interesting game. Just because you are a designer doesn't mean you just draw illustrations; you can create games by discussing ways to make them fun with your colleagues.
I hope that everyone who has the desire to create games will apply.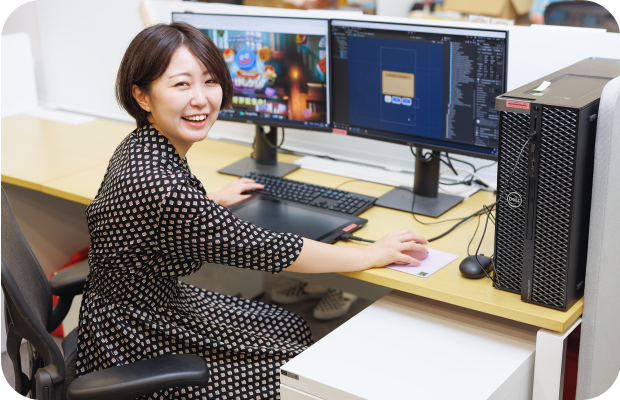 OTHER CREATORS
Senior Creator Profiles